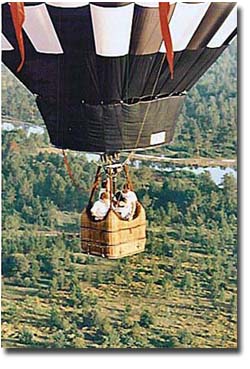 Let "The Balloon Man" take you on the most unforgettable thrill of a lifetime...a Hot Air Balloon ride over the City of Jacksonville, Florida. Imagine yourself skimming across fields, bounding over treetops, flirting with the clouds, then back again to another field. It is unlike anything else you will ever experience.

Ballooning is a form of flight where the destination is irrelevant and the journey is everything!! "The Balloon Man" will provide the balloon, pilot, ground crew and chase vehicle. We offer a champaign brunch celebrating our sucessful flight once we return to mother earth. If you want to tie-the-knot aloft, we can even do that too!

"The Balloon Man" can make it happen...at the most dramatic time of the day...just after sunrise. Treat yourself, a friend or a business associate to the adventure of a lifetime...Hot Air Ballooning. Call "The Balloon Man" today at (904) 725-0119 or email at cvaces@comcast.net to reserve "The ride of your life!"